| | | |
| --- | --- | --- |
| | Varegrupper | |
| | | |
| --- | --- | --- |
| | Producenter | |

SHFT650B Tower 3x 6,5" - Black (Set) "B-STOCK"
1.795,00DKK
1.119,00DKK

| | | |
| --- | --- | --- |
| | Information | |
PA-forstærker 2x500Wrms STA-1000

250470 | STA-1000




2.752,00DKK

Prisen er inkl. 25% dansk moms




På fjernlager
Leveringstid: 1 til 3 hverdage.

Denne vare er på lager, men ikke på vores lille butikslager!
Du er velkommen til at skrive i kommentarfeltet på din ordre at du ønsker at afhente varen, så kontakter vi dig når varen er klar til afhentning i vores butik.
Vi modregner selvfølgelig fragten når du kommer.

Vil du prøve denne denne vare
Hvis du gerne vil prøve denne vare inden du beslutter dig for at købe den, så vil vi meget gerne vise dig varen i vores showroom. Kontakt os gerne og aftal hvornår det passer dig, så har vi varen klar til du kommer :o)

Ring 70 26 25 26

Butikkens adresse og åbningstid er:
DiscoWorld
Møllehaven 9
4040 Jyllinge - vis på kort

Mandag til fredag
09.00 til 17.30
Lørdag og søndag
Lukket

Professionel stereo PA-forstærker, med indbygget delefilter og limiter.  .   STA-1400, STA-1000 og STA-600 leveres med 3-polet IEC stik og matchende strømkabler.   Beat 01/2012. "Two MEGA-112 as top parts as well as one MEGA-118SUB were brought to the test. We used the power amplifiers STA-600 and STA-1400 for the top parts in bi-amping and the STA-1000 for the bass reproduction. For the functional control, we applied the digital speaker management DSM-260. The units were tested in a small factory building. it featured many windows, a concrete floor and several tiled surfaces, allowing the high frequencies to show no mercy. however, with the precise equalizers of the DSM-260, we were able to tame these very quickly. the unit allows to optimise the sound quickly and intuitively. we turned the volume up and achieved an impressive performance. The subwoofer is very stable and provides a really powerful sound. The MEGA-112 impresses by a really well-balanced sound. Full and dynamic dance music with a really great sound can thus be achieved. This PA system is able to easily provide a professional sound for 400 guests, even for the more sophisticated listener. Thumbs up. The selected PA combination is very suitable for everyone performing at temporary locations."    
 
LCD-indikator for temperatur, mode og beskyttelsesfunktion
Indbygget delefilter: 120 Hz, 24 dB/okt., kan indstilles til subwoofer, full range eller satellit
Stereo, parallel eller brokobling
Temperaturstyret ventilator
2 x volumenkontrol
Ground lift 
Højttalerforsinkelse
Beskyttelseskredsløb med LED-indikator for beskyttelse mod kortslutning, overophedning og overspænding ved udgangene
Hver kanal har LED-indikator for spænding, volumen og limiter
NEUTRIK SPEAKON højttalertilslutning  
| | |
| --- | --- |
| Channels | 2 |
| Zones | - |
| Power rating | 1,000 W |
| Power rating at 2 Ω | - |
| Power rating at 4 Ω | 2 x 500 W |
| Power rating at 8 Ω | 2 x 350 W |
| Power rating at 100 V | - |
| Power rating with 4 Ω bridged operation | - |
| Power rating with 8 Ω bridged operation | 1 x 1,000 W |
| Peak music power output (PMAX) | 1,600 W |
| Output impedance | - |
| Inputs | 1 V/20 kΩ |
| Attenuation factor | |
| Frequency range | 20-20,000 Hz |
| Crossover network | 24 dB/oct. |
| Crossover frequency | 120 Hz |
| Integrated limiter | yes |
| Equalizer bass | - |
| Equalizer midrange | - |
| Equalizer treble | - |
| S/N ratio | > 95 dB |
| Crosstalk attenuation | > 60 dB |
| THD | < 0.1% |
| Power supply | ˜ 230 V/50 Hz/1,600 VA |
| Mains voltage | ˜ 230 V |
| Mains frequency | 50 Hz |
| Power consumption, operation | 1,600 VA |
| Power consumption, standby | - |
| Standby current | - |
| Alternative operating voltage | - |
| Alternative power supply | - |
| Admiss. ambient temp. | 0-40 °C |
| Dimensions | 482 x 88 x 418 mm, 2 RS |
| Width | 482 mm |
| Height | 88 mm |
| Depth | 481 mm |
| Rack spaces, RS | 2 |
| Weight | 15 kg |
| Connections | 1 x 3-pole XLR L/R, bal. 1 x 6.3 mm jack L/R, bal. 1 x NEUTRIK SPEAKON L/R 2 x pair of screw terminals |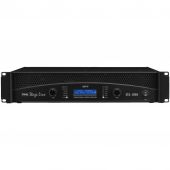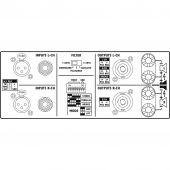 | | | |
| --- | --- | --- |
| | TILBEHøR | |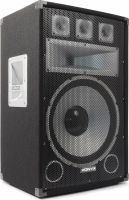 VONYX TX15 3-vejs Diskohøjtaler - 15" bas 500W
1.595,00DKK
1.069,00DKK



Kingston 512MB (1x512MB) PC3200 DDR400 ECC
1.353,00DKK
209,00DKK

| | | |
| --- | --- | --- |
| | Sprog | |
| | | |
| --- | --- | --- |
| | Valuta | |