| | | |
| --- | --- | --- |
| | Categories | |
| | | |
| --- | --- | --- |
| | Manufacturers | |

Omnitronic WH-3 Wall Mounting for Speakers "B-STOCK"
181,00DKK
139,00DKK

| | | |
| --- | --- | --- |
| | Information | |
Welcome to Discoworld's webshop. Here you'll find a carefully selected and very extensive choice of everything in DJ equipment, DJ mixers, DJ controllers, Loudspeaker, Smoke Machines and much more. We sell DJ equipment in all priceranges, we sell to both public institutions, companys and to private end consumers. At the bottom of this page you will find short teaser with 4 important points when you are buying DJ equipment.
Should you need assistance picking out the right equipment, you are always welcome to contact us on mail@discoworld.dk
---
All prices include VAT.



Knæklys 50 stk. / 20cm. i blandet farver med samleled


før: 72,95DKK

48,95DKK


Komplet Begynder Disco Lyspakke


før: 1.518,00DKK

899,00DKK


Komplet Disco Lyspakke


før: 4.542,00DKK

2.999,00DKK


Lyspakke m. 3 populærer effekter


før: 2.985,00DKK

1.599,00DKK


Discosæt III med 20 cm spejlkugle


før: 495,00DKK

299,00DKK


Moving Head pakke med 4 stk. Panther 25 mini moving heads. Perfekt til mobildiskotek


før: 10.999,00DKK

3.499,00DKK


BeamZ Mini Star Ball RGBWA 6x3W LED Musikstyret - Flot stjerneeffekt!


før: 525,00DKK

349,00DKK


Vare sæt - pakketilbud nr. 10003383


før: 3.834,00DKK

1.760,00DKK


BeamZ S1200 Røgmaskine inkl. 5 liter Long-Life røgvæske - Pakkesæt


før: 1.241,00DKK

889,00DKK


BeamZ Røgvæske 5L standard


før: 149,00DKK

98,95DKK


BeamZ S700 Røgmaskine inkl. 5 liter røgvæske


før: 1.028,00DKK

459,00DKK


BeamZ S700-JB Røgmaskine inkl. 2 liter røgvæske


før: 727,00DKK

559,00DKK


VMM-F401 4-Channel Music Mixer


før: 875,00DKK

509,00DKK


CD adapter, autoreverse kassetteradio, sort


før: 107,95DKK

48,95DKK


Batterilader inkl. 4 stk. 2100mAh


før: 199,00DKK

149,00DKK
DJ mixer
The start of all DJ equipment is for many people a proper DJ mixer. The mixer is the one most important and personal part of your DJ equipment. Some of the most well known brands within DJ equipment and mixers are today Pioneer, Denon, Rodec and Allen & Heath. These are all very expensive brands within the field of DJ equipment.
If you want something a little bit less expensive, but still really good DJ equipment, you should look take a look at brands like FX Behringer. If you want solid DJ equipment for a really low price we want to recommend Power Dynamics for which we have our own import.

DJ controller
(music from your computer)
The traditional DJ mixer is today often expanded to being what we call a DJ controller. A DJ controller can be connected to a computer and play music that's on it. In our web shop you find well known brands such as Traktor and Numark.
Among the most widely used software for DJ controllers are Serato, Virtual DJ, Rekordbox from Pioneer and of course the most widely used of them all, Traktor.

Loudspeakers
Loudspeakers are of course also a very important part of your DJ equipment. We have gathered a wide range of well known brands such as JBL, Mackie and many more, and also our own import of quality loudspeakers from Power Dynamics, where you get exceptionally good speakers for the price.
With many years of experience in DJ equipment we will for most of our customers recommend active speakers, which for most circumstances are the easiest to use and the most reliable. Read more under the section DJ equipment and loudspeakers here

Smoke machinesA smoke machine is also an important piece in your DJ gear. But here a cheap smoke machine can give the same effect as an expensive one. So a smoke machine can be a good place for saving a little money on your DJ equipment.
The smoke machine that fits in perfectly with your equipment can often be just a 700 W, that can easily give the desired effect even in large halls. Outside use however puts bigger demands on your DJ gear and especially the smoke machine must there be powerful to reach the desired effect.
In our web shop you will of course find many different but traditionally built smoke machines from brands like Martin and Antari. But we also have special smoke machines like fazers, ice smoke machines and fog machines. Read more under the section DJ equipment and Smoke Machines here

KB1 Electronic Keyboard 61-Key "B-STOCK"
1.229,00DKK
659,00DKK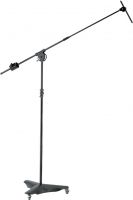 K&M 21430 Microphone Stand
2.619,00DKK
1.619,00DKK

| | | |
| --- | --- | --- |
| | Languages | |
| | | |
| --- | --- | --- |
| | Currencies | |