| | | |
| --- | --- | --- |
| | Categories | |
| | | |
| --- | --- | --- |
| | Manufacturers | |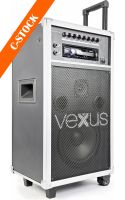 ST110 Portable Sound System 8" CD USB MP3 "C-STOCK"
3.695,00DKK
1.299,00DKK

| | | |
| --- | --- | --- |
| | Information | |
6-zone mono PA mixing amplifiers PA-6480

172190 | PA-6480




8.652,00DKK

The price includes 25% Danish VAT




Delivery time: 4-8 workdays.

Vil du prøve denne denne vare
Hvis du gerne vil prøve denne vare inden du beslutter dig for at købe den, så vil vi meget gerne vise dig varen i vores showroom. Kontakt os gerne og aftal hvornår det passer dig, så har vi varen klar til du kommer :o)

Ring 70 26 25 26

The address and opening time for the shop:
DiscoWorld
Møllehaven 9
4040 Jyllinge - show on map

Monday to Friday
09.00 til 17.30
Saturday and Sunday
Closed

6-zone mono PA mixing amplifiers. Mains operation and 24 V emergency power operation Removable mounting brackets PROSOUND 9/10-2007. "This unit also features good and robust mechanics, as customary by MONACOR. The PA amplifier gives a conclusive and sophisticated impression. With additional modules, it turns into a respectable system which is suitable for versatile applications."
1 x 240 WRMS (PA-6240)
1 x 480 WRMS (PA-6480)
1 x 600 WRMS (PA-6600)
6 zones, can be controlled individually
Chime, continuous sound and wailing sound, automatic mute, 2-tone chime or 4-tone chime (selectable)
Bass, treble and master controls, level display via LEDs, regulated fan
Insertions for various functions are available at option
17 V phantom power for electret microphones
Connection for zone paging microphone PA-6000RC
1 insertion compartment at the front for automatic alarm message insertion PA-1120DMT, a tuner insertion or a CD player insertion, all available at option
3 insertion facilities on the rear panel for optional modules with the following features: PA-6FD: fault detection PA-6FM: fault monitoring PA-6FR: anti-feedback
| | |
| --- | --- |
| Channels | 5 |
| Zones | 6 |
| Power rating | 480 W |
| Power rating at 2 Ω | - |
| Power rating at 4 Ω | - |
| Power rating at 8 Ω | - |
| Power rating at 100 V | - |
| Power rating with 4 Ω bridged operation | - |
| Power rating with 8 Ω bridged operation | - |
| Peak music power output (PMAX) | 680 W |
| Output impedance | - |
| Inputs | 2.5 mV/5 kΩ, 0.3 V/5 kΩ (mic/line), 0.3 V/15 kΩ (line), 0.775 V/10 kΩ (preamplifier) |
| Attenuation factor | - |
| Frequency range | 55-16000 Hz |
| Crossover network | - |
| Crossover frequency | - |
| Integrated limiter | - |
| Equalizer bass | ± 10 dB/100 Hz |
| Equalizer midrange | - |
| Equalizer treble | ± 10 dB/10 kHz |
| S/N ratio | > 70 dBA (mic), > 80 dBA (line) |
| Crosstalk attenuation | - |
| THD | <1% |
| Power supply | ~ 230 V/50 Hz/1,500 VA, DC 24 V/40 A |
| Mains voltage | ~230 V |
| Mains frequency | 50 Hz |
| Power consumption, operation | 1500 VA |
| Power consumption, standby | - |
| Standby current | - |
| Alternative operating voltage | &dircurrent;24 V |
| Alternative power supply | &dircurrent;40 A |
| Admiss. ambient temp. | 0-40 °C |
| Dimensions | 430 x 133 x 352 mm, 3 RS |
| Width | 430 mm |
| Height | 133 mm |
| Depth | 352 mm |
| Rack spaces, RS | 3 |
| Weight | 19,5 kg |
| Connections | 3 x combo 6.3 mm/XLR (mic/line), 2 x RCA L/R (line), 1 x 6.3 mm jack (preamplifier), 1 x RJ45 (push-to-talk mic), screw terminals (telephone system), screw terminals (speakers), 1 x 6.3 mm jack (ext. amplifier), 1 x RCA L/R (record) |




| | | |
| --- | --- | --- |
| | ACCESSORIES | |

VDJ25 2CH Mixer with Amplifier
1.195,00DKK
789,00DKK

| | | |
| --- | --- | --- |
| | Languages | |
| | | |
| --- | --- | --- |
| | Currencies | |