| | | |
| --- | --- | --- |
| | Varegrupper | |
| | | |
| --- | --- | --- |
| | Producenter | |

RP310 Record Player with USB "B STOCK"
1.609,00DKK
1.079,00DKK

| | | |
| --- | --- | --- |
| | Information | |
Supercore 2008 Karaoke 16 CD+G Disc Pack

SPC2008




1.929,00DKK

1.199,00DKK

Prisen er inkl. 25% dansk moms




På lager i butikken

Leveringstid: 1 hverdag ved bestilling før kl. 15.00.

Da denne vare er på lager i vores butik er du selvfølgelig altid velkommen til selv at komme forbi for at afhente varen.

Butikkens adresse og åbningstid er:
DiscoWorld
Møllehaven 9
4040 Jyllinge - vis på kort

Butik og Telefon
Tirsdag, Onsdag og Fredag
10.00 til 17.30
Lager og vareudlevering
Mandag, tirsdag, onsdag
torsdag og fredag
09:00 til 17:30

Har du brug for hjælp eller rådgivning inden du bestiller?
Så ring gerne til vores venlige og kompetente sælger Christian Høegh direkte på hans mobil 20832425, Alle ugens 7 dage fra 09:00 til 20:00

DISC 1: POWER POP 2007 / SPC101
Hips Don't Lie - Shakira
Crazy - Gnarls Barkley
Promiscuous - Furtado, Nelly
Bad Day - Powter, Daniel
You're Beautiful - James Blunt
Black Horse And The Cherry Tree - KT Tunstall
Ain't No Other Man - Christina Aguilera
Over My Head (Cable Car) - Fray
Unwritten - Natasha Bedingfield
So Sick - Ne-Yo?
Inside Your Heaven - Carrie Underwood
Some Hearts - Carrie Underwood
Angels Brought Me Here - Carrie Underwood
Breathe (2 am) - Anna Nalick
Don't Cha - Pussycat Dolls
Because Of You - Kelly Clarkson
Since U Been Gone - Kelly Clarkson
Collide - Howie Day
My Humps - Black Eyed Peas
DISC 2: FUN COUNTRY / SPC102
It's Five O'clock Somewhere - Alan Jackson / Jimmy Buffett
Alcohol - Paisley, Brad
Here For The Party - Gretchen Wilson
Redneck Woman - Gretchen Wilson
All Jacked Up - Gretchen Wilson
Goodbye Earl - Dixie Chicks
Thai's How They Do It In Dixie - Williams, Hank Jr And Friends
Save A Horse, Ride A Cowboy - Big & Rich
Get Drunk And Be Somebody - Toby Keith
As Good As I Once Was - Toby Keith
Beer For My Horses - Toby Keith feat.W Nelson
Two Pina Coladas - Garth Brooks
Friends In Low Places (Live) - Garth Brooks
Who Says You Can't Go Home - Bon Jovi / Jennifer Nettles
A Little Too Late - Toby Keith
That Don't Impress Me Much - Shania Twain
Man! I Feel Like A Woman - Shania Twain
Achy Breaky Heart - Billy Ray Cyrus
On The Road Again - Willie Nelson
Elvira - Oak Ridge Boys
DISC 3: TODAY'S COUNTRY / SPC103
Before He Cheats - Carrie Underwood
Starts With Goodbye - Carrie Underwood
Mississippi Girl - Faith Hill
Want To - Sugarland
Just Might (Make Me Believe) - Sugarland
Not Ready To Make Nice - Dixie Chicks
Cheatin' - Sara Evans
My Wish - Rascal Flatts
Tonight I Wanna Cry - Keith Urhan
Breathe - Faith Hill
Kerosene - Miranda Lambert
When The Stars Go Blue - Tim McGraw
Landslide - Dixie Chicks
Travelin' Soldier - Dixie Chicks
I Hope You Dance - Lee Ann Womack
Strawberry Wine - Deana Carter
Forever And For Always - Shania Twain
The Dance - Garth Brooks
DISC 4: TODAY'S FEMALE MEGAPOP / SPC104
Breakaway - Kelly Clarkson
A Moment Like This - Kelly Clarkson
Hollaback Girl - Gwen Stefani
Get The Party Started - Pink
Fallin' - Alicia Keys
If I Ain't Got You - Alicia Keys
Broken - Seether / Amy Lee
Bring Me To Life - Evanescence
My Immortal - Evanescence
Picture - Kid Rock / Sheryl Crow
I Turn To You - Christina Aguilera
Lady Marmalade - Christina Aguilera / Mya / Pink
First Cut Is The Deepest - Sheryl Crow
Thank You - Dido
Here With Me - Dido
Don't Know Why - Norah Jones
Come Away With Me - Norah Jones
DISC 5: TODAY'S MALE MEGAPOP / SPC105
Boulevard Of Broken Dreams - Green Day
Wake Me Up When Sept Ends - Green Day
Time Of Your Life - Green Day
The Reason - Hoobastank
You Raise Me Up - Josh Groban
Heaven - Los Lonely Boys
This Love - Maroon 5
She Will Be Loved - Maroon 5
With Arms Wide Open - Creed
My Sacrifice - Creed
Higher - Creed
Only God Knows Why - Kid Rock
Drops Of Jupiter - Train
Kryptonite - Three Doors Down
Smooth - Santana / Rob Thomas
Zoot Suit Riot - Big Bad Voodoo Daddy
DISC 6: ADULT COUNTRY / SPC106
I Loved Her First - Heartland
Jesus Take The Wheel - Carrie Underwood
Live Like You Were Dying - Tim McGraw
My Little Girl - Tim McGraw
Like We Never Loved At All - Faith Hill
Valentine - Martina McBride
You Light Up My Life - LeAnn Rimes
Blue - LeAnn Rimes
From This Moment On - Shania Twain
I'm Already There - Lonestar
Amazed - Lonestar
How Do 1 Live - LeAnn Rimes
In My Daughter's Eyes - Martina McBride
Bring On The Rain - Jo Dee Messina
Angels - Randy Travis
When You Say Nothing At All - Alison Krauss
Grandpa - Judds
Crazy - Patsy Cline
I Fall To Pieces - Patsy Cline
Stand By Your Man - Tammy Wynette
DISC 7: FEMALE HITS OF THE 90'S / SPC107
My Heart Will Go On - Celine Dion
Torn - Natalie lmbruglia
Believe - Cher
Come To My Window - Melissa Etheridge
I Want To Come Over - Melissa Etheridge
Bitch - Meredith Brooks
You Oughta Know - Alanis Morissette
Ironic - Alanis Morissette
Hand In My Pocket - Alanis Morissette
Baby One More Time - Britney Spears
Killing Me Softly - Fugees
What's Up - Four Non Blondes
Foolish Games - Jewel
You Were Meant For Me - Jewel
I Will Remember You - Sara McLachlan
Angel - Sara McLachlan
Adia - Sara McLachlan
DISC 8: 70'S CLASSIC ROCK
American Pie - Don McLean
Margaritaville - Jimmy Buffett
Paradise By The Dashboard Light - Meat Loaf
Turn The Page - Bob Seger
Desperado - Eagles
Hotel California - Eagles
Takin' Care Of Business - Bachman-Turner Overdrive
Dream On - Aerosmith
Proud Mary - Creedence Clearwater Revival
Signs - Five Man Electrical Band
Ramblin' Man - Allman Brothers
Some Kind Of Wonderful - Grand Funk Railroad
Knockin' On Heaven's Door - Bob Dylan
Devil Went Down To Georgia - Charlie Daniels
Bad, Bad Leroy Brown - Jim Croce
Black Water - Doobie Brothers
DISC 9: POP MEGAHITS 1980-1985 / SPC109
Like A Virgin - Madonna
Crazy For You - Madonna
I Love Rock 'N Roll - Joan Jett / Blackhearts
Fame - Irene Cara
FlashdanceWhat A Feeling - Irene Cara
The Rose - Bette Midler
Just A Gigolo - David Lee Roth
Crazy Little Thing Called Love - Queen
It's Still Rock And Roll To Me - Billy Joel
Hit Me With Your Best Shot - Pat Benatar
Stop Draggin' My Heart Around - Stevie Nicks / Tom Petty
Just Once - James Ingram
Up Where We Belong - Joe Cocker / J Warnes
Endless Love - Diana Ross / L Ritchie
Nobody - Sylvia
One In A Million You - Larry Graham
Break It To Me Gently - Juice Newton
The Sweetest Thing - Juice Newton
DISC 10: POP MEGAHITS 1985-1992 / SPC110
Love Shack - B-52'S
(I've Had) The Time Of My Life - Bill Medley / J Warnes
Get Here - Oleta Adams
I Will Always Love You - Whitney Houston
Greatest Love Of All - Whitney Houston
Wind Beneath My Wings - Bette Midler
Unchained Melody - Righteous Brothers
Black Velvet - Alannah Myles
That's What Friends Are For - Dionne Warwick / Friends
Manic Monday - Bangles
At This Moment - Billy Vera / Beaters
Wanted Dead Or Alive - Bon Jovi
Something To Talk About - Bonnie Raitt
Shoop Shoop Song - Cher
If I Could Turn Back Time - Cher
Always - Atlantic Starr
More Than Words - Extreme
DISC 11: 70'S MEGAPOP / SPC111
I Will Survive - Gloria Gaynor
Summer Nights - John Travolta / Olivia Newton John
You're The One That I Want - John Travolta / Olivia Newton John
Hopelessly Devoted To You - Olivia Newton John
Celebration - Kool & The Gang
Don't Go Breaking My Heart - Elton John / Kiki Dee
When Will I Be Loved - Linda Ronstadt
Love Will Keep Us Together - Captain & Tennille
Old Time Rock & Roll - Bob Seger
Dreams - Fleetwood Mac
Silver Springs - Fleetwood Mac
You Are So Beautiful - Joe Cocker
Cat's In The Cradle - Harry Chapin
Too Much, Too Little, Too Late - Johnny Mathis / D Williams
Your Song 1 - Elton John
Don't Let The Sun Go Down - Elton John
Imagine - John Lennon
You're So Vain - Carly Simon
Brandy - Looking Glass
I Think I Love You - Partridge Family
DISC 12: STANDARD / SPC112
My Way - Frank Sinatra
New York, New York - Frank Sinatra
Summerwind - Frank Sinatra
That's Life - Frank Sinatra
Lady Is A Tramp - Frank Sinatra
After The Lovin' - Englebert Humperdinck
Release Me - Englebert Humperdinck
It Had To Be You - Harry Jr Connick
Can't Help Falling In Love - Elvis Presley
The Wonder Of You - Elvis Presley
Moon River - Andy Williams
Blue Bayou - Linda Ronstadt
Mac The Knife - Bobby Darin
Beyond The Sea - Bobby Darin
I Left My Heart In San Francisco - Tony Bennett
Delilah - Tom Jones
For The Good Times - Ray Price
Goodnight Sweetheart - Spaniels
It's Only Make Believe - Conway Twitty
Through The Years - Kenny Rogers
Could I Have This Dance - Anne Murray
Wonderful Tonight - Eric Clapton
DISC 13: THE LATE 60'S / SPC113
Brown-Eyed Girl - Van Morrisson
Me And Bobby McGee - Janis Joplin
These Boots Are Made For Walkin' - Nancy Sinatra
I Got You Babe - Sonny & Cher
White Rabbit - Jefferson Airplane
Build Me Up Buttercup - Foundations
Moondance - Van Morrisson
Sweet Caroline - Neil Diamond
Bridge Over Troubled Water - Simon & Garfunkel
The Boxer - Simon & Garfunkel
My Girl - Temptations
Respect - Aretha Franklin
Stop! In The Name Of Love - Diana Ross / Supremes
Born To Be Wild - Steppenwolf
Wild Thing - Troggs
California Dreamin' - Mamas & The Papas
Soul Man - Sam & Dave
Midnight Confessions - Grass Roots
Secret Agent Man - Johnny Rivers
Suspicious Minds - Elvis Presley
DISC 14: THE 50'S & 60'S / SPC114
The Wanderer - Dion / Belmonts
A Teenager In Love - Dion / Belmonts
You've Lost That Lovin' Feelin' - Righteous Brothers
The Dock Of The Bay - Otis Redding
House Of The Rising Sun - Animals
It's My Party - Lesley Gore
All I Have To Do Is Dream - Everly Brothers
Bye Bye Love - Everly Brothers
In The Still Of The Night - Five Satins
Pretty Woman - Roy Orbison
Crying - Roy Orbison
La Bamba - Ritchie Valens
Dancing In The Street - Martha & The Vandellas
Sixteen Candles - Crests
Johnny Angel - Shelly Fabares
I Saw Her Standing There - Beatles
All Shook Up - Elvis Presley
Don't Be Cruel - Elvis Presley
Jailhouse Rock - Elvis Presley
DISC 15: 2007 MEGA POP / SPC 115
Girlfriend - Avril Lavigne
Irreplaceable - Beyonce
Umbrella - Rihanna & Jay Z
Big Girls Don't Cry - Fergie
Glamorous - Fergie
Hey There Delilah - Plain White T's
The Sweet Escape - Gwen Stefani
Home - Daughtry
Rehab - Amy Winehouse
This is Why I'm Hot - Mims
U + Ur Hand - Pink
Hurt - Christina Aguilera
Rockstar - Nickelback
This Ain't A Scene, It's An Arms Race - Fall Out Boy
Lips Of An Angel - Hinder
Call Me When You're Sober - Evanescence
Do I make You Proud - Taylor Hicks
DISC 16: 2007 MEGA COUNTRY / SPC116
Anyway - Martina McBride
Our Country - John Mellencamp
Tim McGraw - Taylor Swift
Stay - Sugarland
Settlin' - Sugarland
I'll Stand By You - Carrie Underwood
Wasted - Carrie Underwood
High Maintenance Woman - Toby Keith
Lost In This Moment - Big & Rich
Beer In Mexico - Kenny Chesney
All My Friends Say - Luke Bryan
More Than A Memory - Garth Brooks
Red High Heels - Kellie Pickler
Ladies Love Country Boys - Trace Adkins
Crazy Ex-Girlfriend - Miranda Lambert
Famous In A Small Town - Miranda Lambert
Do I make You Proud - Taylor Hicks
Ticks - Brad Paisley
So Small - Carrie Underwood



Supercore 2008 Karaoke 16 CD+G Disc Pack "B STOCK"
B-stock er en 100% ny vare som sælges ekstra billigt, typisk fordi varen har været åbnet vist frem og pakket ned igen.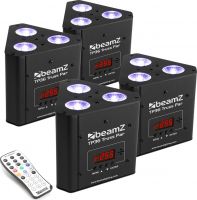 BeamZ TP36 - Pakkesæt med 4 stk
5.579,00DKK
3.069,00DKK


PD632H 2x 20-Channel Digital UHF Wireless Microphone System with 2 microphones
3.189,00DKK
2.239,00DKK

| | | |
| --- | --- | --- |
| | Sprog | |
| | | |
| --- | --- | --- |
| | Valuta | |